My Account
View Cart
Questions? Call us!
410-363-7318
Follow us: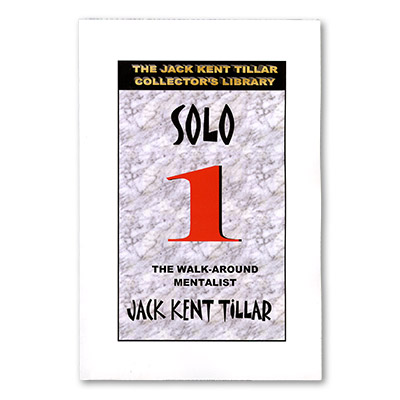 Solo by Jack K Tillar - ebook DOWNLOAD
Item Number: BX0701
$39.97
Solo by Jack K Tillar - ebook DOWNLOAD
Order now and get instant access!
This is required reading for the mentalist who wants to do corporate or high-end social party mentalism. It's filled and brimming over with brilliant and original routines!
Over 30 new performance pieces tailored for walk-around performances
8 concise essays on how to get started
Original approaches and opening gambits
How to create and use business cards that guest will keep
A bonus "Design Duplication" master routine by Michael Weber
Essential insider information for special events
The best advice on what to do and what not to do at corporate and social events!
"Jack's presentations are built upon concepts that are appealing and intriguing...the methods are relatively simple... As an example...the routine "Mr. Lucky's Hook"...has a splendid frame of reference, which leads to an utterly charming closing line."

-
Max Maven
from his introduction
"You are about to be drawn in by my friend (film composer and mentalist) Jack Kent Tillar. I expect it will be a harmonious experience."
-
Max Maven
Pages
148 - 6" x 9" - PDF Format
You may also be interested in these items.