My Account
View Cart
Questions? Call us!
410-363-7318
Follow us: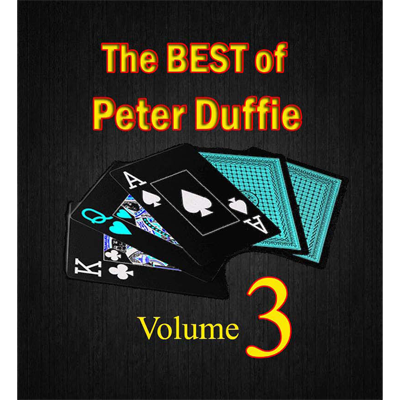 Best of Duffie Vol 3 by Peter Duffie eBook DOWNLOAD
Item Number: BX1468
$19.95
Best of Duffie Vol 3 by Peter Duffie eBook DOWNLOAD
Order now and get instant access!
Great Routines including a Roy Walton effect.

Plus a previously Unpublished Bonus.

Table of Contents:


HEAPS OF LIES
KICK-START ACES
DELUSION ASSEMBLY
DECKLESS DELUSION ASSEMBLY
THE INTEGRITY TEST
FOUND OUT!
THE FACE UP TRICK
PIANO BIDDLE
DECK DISCERPTION
MORE DISCERPTION
KEY LARGO
UNI- VERSATILE
THE FUTURE PACKET
BRIDGE CLUB
THE 18 CARD TRICK
DOUBLE DECKER
A PAIN IN THE ACE
THE ROLEX GANG
THE ANTI-GRAVITY SHUFFLE
ANTI-GRAVITY + THOT
THE PallaD PRINCIPLE
WALTON'S "WARM-UP"
THE GO-BETWEEN
TRANS-COLLECTION
AUTO-MATCH PREDICTION
A NOVEL CARD TRICK
IT IS WRITTEN
CHAMBRE ARDENTE
ARADIA
THE FLEEING ACES
CARNIVAL OF SORTS
ELVIS HAS LEFT THE BUILDING
EASY-GOING DIARY
LUCKY LADIES
51 FACES NORTH
PRODECTION
RETURN TO IPCRESS
DELIVERY DATE
THE EXPERTS
HOSIANDU
CRYSTAL CLEAR TRANSPO
MINDFIELD
SEVEN DOWN
COLLECSTASY
Pages: 100 - 8.25" x 8.7" - Hyperlinked. Fully Illustrated with color photographs. - PDF FORMAT
You may also be interested in these items.