My Account
View Cart
Questions? Call us!
410-363-7318
Follow us: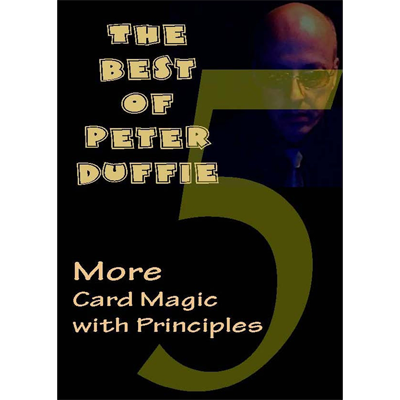 Best of Duffie Vol 5 by Peter Duffie eBook DOWNLOAD
Item Number: BX1470
$19.95
Best of Duffie Vol 5 by Peter Duffie eBook DOWNLOAD
Order now and get instant access!
This volume takes off from where the previous volume finished. Featuring more card magic based on clever principles rather than sleight of hand.

43 routines have been extracted from my past books and are reprinted in this new volume.

Table of Contents:
JACK OF ALL TRADE-OFFS
MAGICAL MIXTURE
INNOCENT CONFUSION
A NAIL-WRITING TRICK
TOHU BOHU
PRELIMINATION
BLACK SHEEP
WHERE IT'S AT
THE UNDERTAKERS
THE MILKING WAY
RANGE ROVER
FAROSATION
HANDOUT
THE MAGIC SHUFFLE
BAD INFLUENCE
CRIME SUSPECT
AN IMPOSITION
FIRST EXPERIMENT
THE MAGICARD #1
THE MAGICARD #2
AUTO - SPLIT
THE DIARY OF EXPECTATION
NUMB .... ers
QUANTITY SURVEYOR
THE CHOSEN FEW
SIMPLACES
MEDVEGIA
ACQUIESCENCE
OUIJA
THE DETECTIVE
COLOUR MAGNET
BAKER STREET BRANCH
GILBREATH RESET
GAME , RESET AND MATCH
ORBITAL STACK
MAGNUM STACK
SIVAKEY
TODDLING
51 FACES NORTH
WRITING A WRONG
SECOND SITE
RECOUNT-DOWN
TWENTY-ONE
Pages: 82 - 8.25" x 10" - Hyperlinked. Fully Illustrated with color photographs. - PDF FORMAT
You may also be interested in these items.