My Account
View Cart
Questions? Call us!
410-363-7318
Follow us: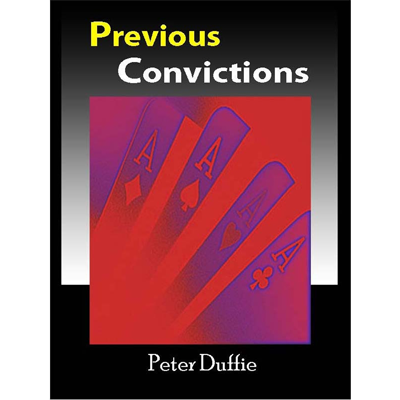 Previous Convictions by Peter Duffie eBook DOWNLOAD
Item Number: BX1484
$14.95
Previous Convictions by Peter Duffie eBook DOWNLOAD
Order now and get instant access!
This is a follow-up to Obscurities & other Hidden Mysteries, which was a collection of tricks that I had published in various magazines and in books published by others over the years.

I was unsure how a book of previously published material would be received, despite the fact that most, if not all of the material is hard to come by. The reception to Obscurities both surprised and delighted me, and has encouraged me to release this - a second book of hidden mysteries.

Contents
The Go-Between
Trans-Collection
Attractive
Hot Thoughts
Bullet Proof
Fastest Sandwich
The Circle
By Royal Command
Quick Bite
Recount Down
Cannibal Land
Slick Nick Trick
Collector's
eminar
Twenty One
Medium Tedium
Pages: 37 - Hyperlinked. Fully Illustrated with photographs. - PDF FORMAT
You may also be interested in these items.