My Account
View Cart
Questions? Call us!
877-946-2442
Follow us: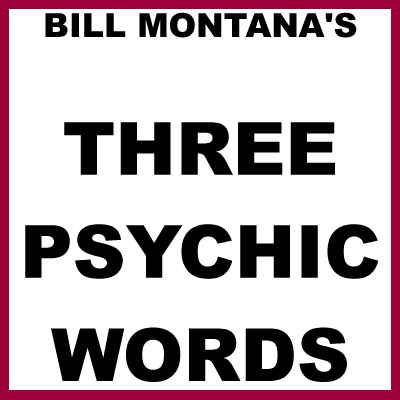 Three Psychic Words by Bill Montana - eBook DOWNLOAD
Item Number: BX1856
$75.00
Three Psychic Words by Bill Montana - eBook DOWNLOAD
Order now and get instant access!
A diabolical new device for the psychic reader that can be used to gain the necessary information to begin your reading.

The premium edition comes with a special engraved wood board and laminated printed card similar to the wood version shown to the left. The general edition of this work comes in PDF with the files so you can make the laminated card on paper. Both versions are currently available for private sale please contact me for more information. If you do not do psychic readings such as tarot, palm or intuitive this apparatus and work is not for you. That said if you do this type of work then this work is for you and will work wonders by giving you three concepts to begin your reading. May be used at psychic fairs, psi parties and other venues where psychic readings are conducted. Best of all while this work is psychologically based its real simple to use.

Here is what Richard Webster had to say about this work.

"Hi Bill,

Thank you very much for sending me the PDF of "Three Psychic Words". It's a brilliant, highly original idea, that provides a perfect start to a cold reading. Congratulations on creating such a simple, elegant way of coming up with everything necessary to provide a comprehensive, helpful reading.

Please feel free to use anything I've said here. It's a wonderful idea. Congratulations on creating such a simple, useful, practical item.

Warmest wishes,

Richard."

Pages: 8 - 8.5" x 11" - PDF FORMAT
You may also be interested in these items.