My Account
View Cart
Questions? Call us!
410-363-7318
Follow us: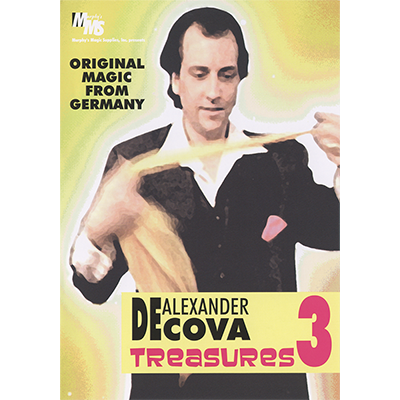 Treasures Vol 3 by Alexander DeCova - DOWNLOAD
Item Number: BX2469
$14.95
Treasures Vol 3 by Alexander DeCova - DOWNLOAD
Order now and get instant access!
Multiple award-winner, Alexander De Cova has been one of Germany's top professional magicians for over 12 years. His creative and innovative thinking shines through in this, his first English language download series.

Here you will find visual, baffling and commercial magic that will delight you and your audience. Most of the material is relatively easy to learn and perfectly suited for the stand-up performer. You will also find many new tips and insights for enhancing your own present material.

All in all, enjoy the magic of one of Germany's most creative magicians!

Vol. 3 FEATURES:

Vanishing Cane
Stand-Up Flurry
Seven Card Monte
McDonalds Aces
Hangman Plus
Ordered Surprise
Spring Gag
Slot Machine
Ultimate Coin Penetration
Lethal Weapon
Running Time
Approximately 1hr 32min
You may also be interested in these items.