My Account
View Cart
Questions? Call us!
410-363-7318
Follow us: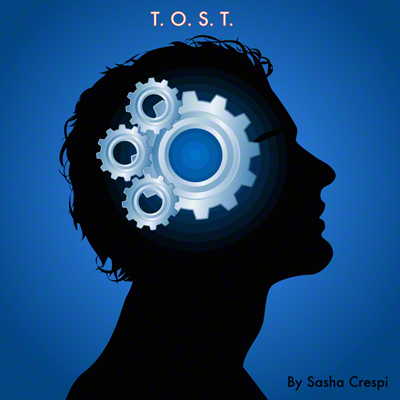 T.O.S.T. by Sasha Crespi - ebook DOWNLOAD
Item Number: BX4415
$12.00
T.O.S.T. by Sasha Crespi - ebook DOWNLOAD
Order now and get instant access!
T.O.S.T. is a 3 to 12 minute performance piece created by Sasha Crespi. It allows you to logically combine a book test and a tossed out deck, but with objects that you already have on you and that seem 100 % organic.*

This could also be performed with objects that are borrowed from your spectator with no prior setup and no stooging.

There is a factor in this routine that makes it a lot of fun but also a lot more logical.

-Never need to take the objects back.
-Can be borrowed.
-Improvised method taught, impromptu methods referenced to.
-It makes sense to pass from one phase to the next.
-Several versions taught.
-No cards or books in sight.

Additionally, Sasha's D.A.D. principle is included. It allows you to ask someone to think of a song, book, movie,... And ask them to think of ANY line/word/verse in that song, movie, poem, ... and you instantly have the ability to reveal the line with NO FISHING. They can confirm you are 100 % accurate.

*No cards in sight (that was one of the things I wanted to eliminate). This does NOT use a book! It only uses items you are probably using right now, this allows you to do a book test in an extremely logical way with no physical words. It's a "thought of" book test.

Pages: 16 - 8.25" x 11.7" - PDF FORMAT
You may also be interested in these items.