My Account
View Cart
Questions? Call us!
410-363-7318
Follow us: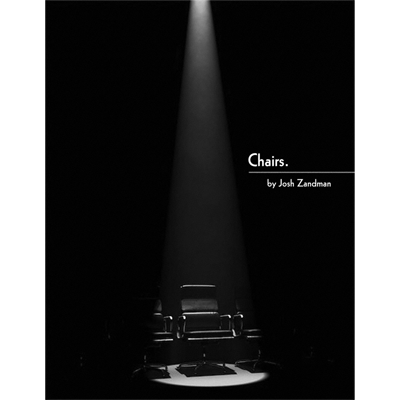 Chairs by Josh Zandman - eBook DOWNLOAD
Item Number: BX5045
$20.00
Chairs by Josh Zandman - eBook DOWNLOAD
Order now and get instant access!
A simple impromptu, no gimmick chair routine.

A spectator comes on stage and sits in any one of 7 chairs. She has a free choice and may change her mind as many times as she likes. The chair she chooses is the predicted chair containing a single envelope. Inside this envelope is a $20 bill with, "You will choose this chair" written on the bill. To confirm the prediction and a wise choice by the spectator, the chairs to the left and right of the predicted chair are shown empty. She keeps the bill and walks off stage.
Simple. Clean. Done.

or

Have your spectator walk away with a $1 bill while every other chair contains a $100 bill!

...and more!

In the original routine:

No gimmicks, switches or forces
Spectator handles the envelope
The immediate surrounding chairs are shown with no envelopes, no matter what chair they sit in!

Contributions from: Greg Arce, Max Krause, Dr. Todd Landman, Raj Madhok and a bonus routine from Andrew Gerard.

Pages: 12 - 8.5" x 11" - PDF FORMAT
You may also be interested in these items.