At The Table July 2014 video DOWNLOAD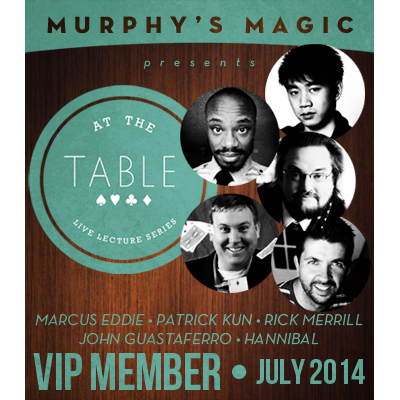 July is here! That means 5 EXCLUSIVE and AMAZING lecturers for you to see! What better way to see all 5 then to become a VIP Member!
What does becoming a VIP Member mean?
It means getting all 5 lectures for the price of 2! For just $49.95, you will be able to watch LIVE or download later, these lectures from:

Marcus Eddie: A talented young magician who has skill with anything he touches. Marcus has released several of his products into the magic community with great success! In his lecture, Marcus plans to teach you some of the effects that put him on the "Magic map", as well as cover brand new material never seen before.

Patrick Kun: A unique performer indeed, Patrick Kun has consulted for top names in magic including David Copperfield and Cyril. In his lecture, Patrick plans to teach you some of the classic effects that got him recognized as well as some of the classics that he has put a 'PK-Touch" to such as the Anniversary Waltz and the Haunted Pack.

Rick Merrell: Rick is a FISM winning World Champion of Close-up magic. Join Rick as he shares with you what made him the champion that he is by sharing some of his visual magic and routines that made him so successful. From close up magic, to corporate magic, to comedy magic, there WILL be something here for everyone!

John Guastaferro: John is an extremely talented creator. From his Brainstorm DVDs to his book One Degree, John will be showcasing some of his published effects that are acclaimed worldwide, along with new and unpublished material. He will also talk about the creative process and how the 'One-degree" approach will create a great impact in YOUR magic through small refinements.

Chris Hannibal: Chris Hannibal is a seasoned street performer whose polished and creative style has landed him in gigs throughout the world. Chris is also seasoned performer at the world famous Magic Castle in LA. Chris refined his act to focus more on the corporate entertainment world for which he calls Unique Inspirational Theater. Join Chris as he shares some of his favorite routines, effects, ideas and theory.

Imagine, all 5 of these lectures at only $10 a piece? It's not imagination, it's REALITY.

Become a VIP Member today, and get a front row seat to all 5 of these fantastic performers for only $49.95!

This is a subscription product. After you subscribe, you will have instant and permanent access to 30 days of lectures and be billed every month.