At the Table Live Lecture - Kostya Kimlat 8/13/2014 - video DOWNLOAD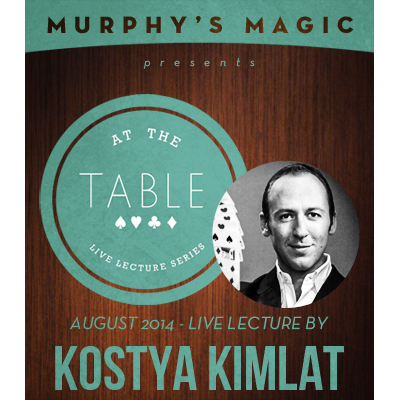 Kostya Kimlat is a world-renowned sleight-of-hand artist and top corporate magician. In this exclusive "At the Table" lecture, Kostya shares the secrets of his success in "Show" and "Business" as a full time performer. A consummate professional, Kostya will teach you how to make the most of your magic, performing casually for your friends or for paying clients. You'll learn principles of interpersonal communication that will help you entertain with confidence and connect to your audiences with ease. Whether you perform for one, ten or one-thousand people, Kostya's teachings will take your magic to the next level.

You'll learn about:
Reading Your Audience
Best Ways to Approach Crowds
Hottest Way to Break the Ice
A Card Effect That Plays for Thousands
Routining Your Magic for Close-Up & Stage
Secrets of Live TV Magic
Secrets of Restaurant Magic
Foundation For Following Your Passions
Principles for Growing Your Business

Kostya will talk about the magic he performs at:
Restaurants
Dinner-Shows
Hotel Banquets
Sports Events
Live Television
and more!


Reviews
This lecture surpasses many I've seen, not because it's loaded with effects (it isn't). Rather, Kostya offers some brilliant insights into routining, building a business, and being a professional entertainer.. Take advantage of this opportunity to enter the mind of a top notch performer, teacher and businessman. You'll raise the bar on your performance, your thinking, and your professional image. This lecture is a welcome and much needed departure from most magic seminars that deal only with mechanics of tricks. I give it my highest recommendation! - Jeffrey B.

Do you own this product? Write a review.