Card Startlers by Paul Gordon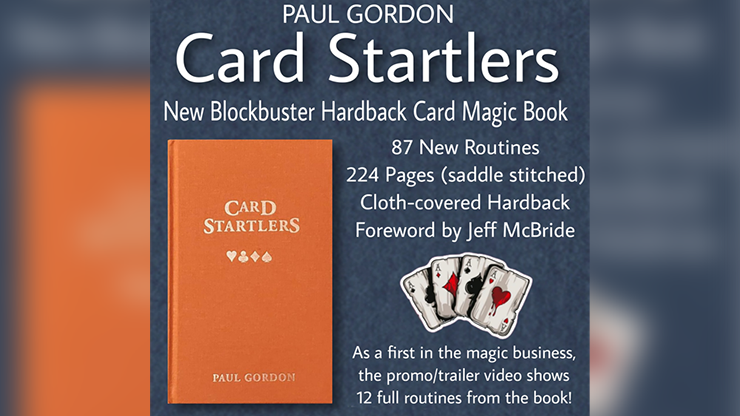 NEW: Paul Gordon's Card Startlers - New Blockbuster Hardback Book for 2022.

Card Startlers is a beauty! It contains 87 NEW routines, 224 pages and boasts a foil-embossed cloth-covered hardback with saddle-stitched pages and head and tail bands. The reviews and comments are amazing! Magic Orthodoxy (on YouTube) RAVED about it. The promo/trailer video is a first in magic publishing. Why? Well, it shows Paul performing a dozen routines from the book (with no dodgy edits) and you can watch another forty plus on his YouTube channel. The tricks are all doable workers; mostly with a regular deck. Paul teaches in a nice and friendly conversational manner and most tricks are fully taught (with no waffle) in one or two pages.

Paul Gordon is a Gold Star member of The Inner Magic Circle and a recipient of The John Nevil Maskelyne Prize for Literature.

Card Startlers boasts a Foreword by the legendary Jeff McBride.