The Vault - Pressure Force by Dani Daortiz video Download
Order now and get instant access!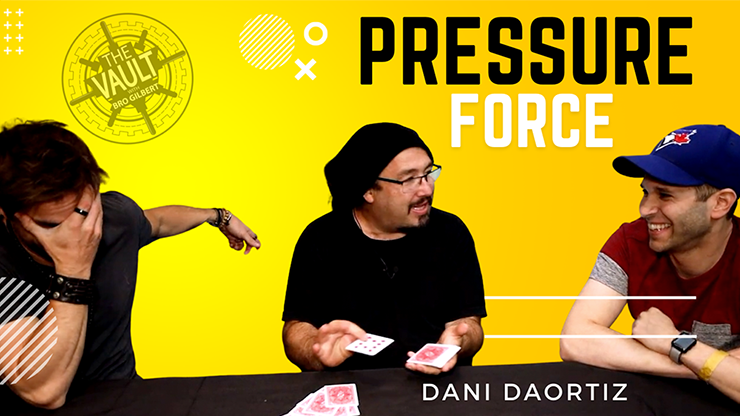 "Pressure Force is a great lesson in spectator management. Even if you are not into card tricks - the psychology behind Pressure Force is a must-to-learn for every performer! BRILLIANT! BRILLIANT! BRILLIANT!"
- Menny Lindenfeld

"Dani DaOrtiz needs no introduction. His performances are that of a true master and his techniques devastating! Pressure is a force from Dani that is so beautifully explained in this download you will be doing it in no time! By mastering this technique you are not only learning great spontaneous magic but a technique that is PROFOUNDLY powerful and one you will use forever!"
- Matt Johnson

"Watching guru DaOrtiz in action is a lesson every time. Each time I watch him... I learn."
- Kuffini / Patrik Kuffs

Known world wide for his forcing ability, Dani DaOrtiz shares one of his brand new forcing concepts for the very first time. In Pressure Force, you don't control the cards... you control the audience.

Imagine, four cards are randomly selected by your spectators. Another spectator deals down to a random amount of cards, stopping only when they want. Impossibly the random selections are revealed to be a four of a kind. And if that's not enough, the value exactly matches the number of cards dealt onto the table.

In Pressure Force, Dani reveals the secrets to this revolutionary new tool. It's so good, Dani was fooling his audience even during the explanation!